How to cook Tenderstem® broccoli
Can we let you in on a secret? You can cook Tenderstem® broccoli however you like it! It's a pretty versatile mini tree. But if you're after a bit of a steer, take a look at our handy guides to cook your Tenderstem® broccoli to perfection.

0 mins
If you enjoy the taste of Tenderstem®, you can eat it raw for a fresh and crunchy snack. Simply give it wash and enjoy with some hummus, a creamy cheese sauce or just on its own.
Watch the video
3-4mins
Add washed Tenderstem® to a pan of boiling water for 3-4 minutes. You can test the stem for tenderness to your liking with a sharp knife.
Drain and serve.
Watch the video
8-10 mins
Wash your Tenderstem® and coat with a small amount of oil. Add to a hot griddle pan or BBQ and cook for around 8-10 minutes. You're looking to achieve a little bit of charring to the stem and florets to bring out a delicious nutty flavour.
Watch the video
3-4 mins
Bring some water to the boil in your pan and place your washed Tenderstem® on top in a steamer pan. Steam for 3-4 minutes. The Tenderstem® broccoli should turn bright green and tender when it's ready. If you don't have a steamer pan, you can use a colander and place your saucepan lid over the top.
Watch the video
5 mins
Wash your Tenderstem® and cut the stems into smaller chunks. Add to a hot wok with a little bit of oil and fry for 5 minutes, adding some seasoning as it cooks.
Watch the video
12-15 mins
Add some washed Tenderstem® to a roasting dish and drizzle with a little oil. Roast for 12-15 minutes at 180ºC. Season to your liking and serve.
Watch the video
If you're cooking Tenderstem® from frozen, you can still boil, steam, stir-fry, griddle, BBQ and roast it, but your timings may change. Read more amount cooking Frozen Tenderstem® here.
Read more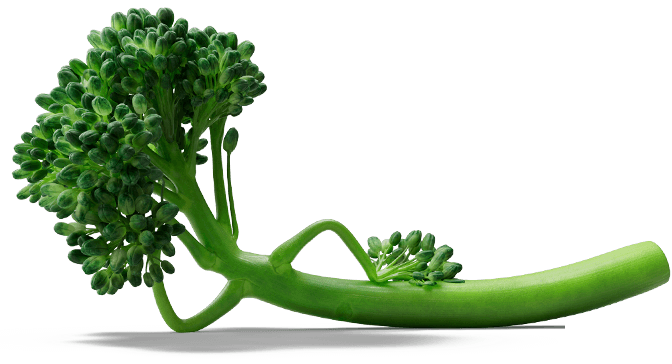 Recipe Inspiration
Here are our latest and greatest Tenderstem® broccoli recipes that we love right now.
And, we think you'll love them too.