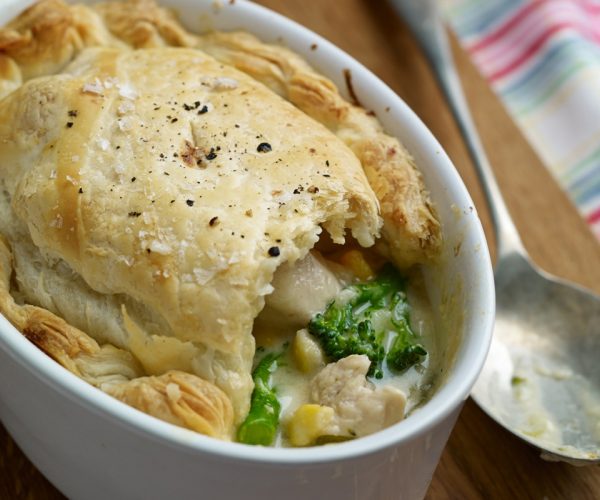 Tenderstem® broccoli, Shallot, Sweetcorn & Tarragon Chicken Pot Pie
Method
Melt the butter in a heavy based saucepan and add the shallots. Sweat over a medium low heat for 10 minutes until they are starting to soften. Stir through the flour, mixing it well into the buttery juices and cook for a minute.

Over a low heat, slowly pour in the milk, stirring all the time to prevent lumps forming. Once all the milk is combined, increase the heat a little and bring up to the boil, cooking for a few of minutes until the sauce is thick and glossy.

Add the chicken and simmer for around 4-5 minutes until cooked through. To check it is cooked, fish out one of the biggest pieces in the pan, and cut into it to see if there is any pink in the middle. Remove the sauce from the heat.

Blanch the Tenderstem® broccoli in boiling water, then drain well and stir through sauce. Add the sweetcorn and tarragon and season well with salt and freshly ground black pepper. Divide between 4 deep pie dishes, or spilt into smaller dishes for children's portions. Set aside to cool.

Unroll the sheet of puff pastry onto a lightly floured worktop and cut into pieces large enough to fit on top of the pie dishes. If necessary roll the pastry a touch thinner to make it a little larger. Lay the pastry over the pies and tuck well down over the filling. Make a cut on the surface for the steam to escape, brush with a little milk and sprinkle over a few flakes of sea salt. Chill until required.

When you are ready to bake the pies, preheat the oven to 200C. Bake for 20 minutes until the pastry is crisp and golden and the filling is bubbling hot. If you are cooking smaller pies, reduce the time a little.
More ways to cook Tenderstem®